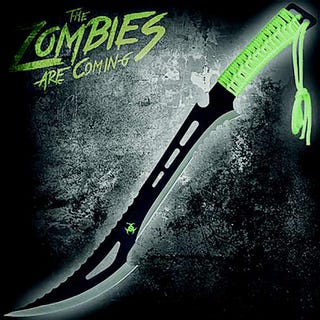 The zombies might be coming, but killer knives for dispatching the undead will be illegal in England and Wales from this Thursday. Northern Ireland is planning similar legislation to be enacted soon.
An amendment to the Criminal Justice Act 1988 will ban the sale, manufacture, rental or importation of knives often referred to as 'zombie knives', 'zombie killer knives' and 'zombie slayer knives'.
The knives can have cutting blades of up to 25 inches, have a serrated edge and include images or words that glamorise violence.
The new law comes in addition to government action to address knife crime through an agreement with retailers committing to regular staff training, safely displaying and securely packaging knives, raising public awareness of age restrictions, and robust age verification checks for knife sales whether in-store or online.
Scotland will not be introducing similar legislation, adding that existing laws are sufficient to deal with anyone carrying a knife of this nature.