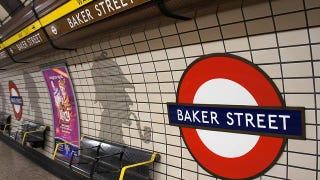 I have a little bugbear about the parallel worlds of Sherlock and Elementary and pretty much any film or tv version of Sherlock Holmes (don't get me started on Sexton Blake). Do they have access to the London Underground?
OK, the consulting detective lives at a fictional address. Or at least he did when Conan Doyle wrote a Study in Scarlet in 1886. It was published in Beeton's Christmas Annual 1887, which I presume followed the British tradition of dating such publications for the coming year.
At the time, addresses in Baker Street numbered around 100, so Conan Doyle's choice of address is blatantly unreal even if it did add some local flavour. He's not the only author to do that kind of thing and hopefully won't be the last.
But about four to five years after the last official publication of a Holmes story (The Adventure of Shoscombe Old Place April 1927) Baker Street was renumbered. Come 1932, the newly built Abbey House, home to the Abbey Road Building Society (later Abbey National) was now 215-229 Baker Street.
So by the time the Basil Rathbone Sherlock Holmes movies were updated to the then contemporary 1940s there was a real location for 221B Baker Street even if it was buried in an office block belonging to a financial institution.
Coincidentally, from the day they moved in, Abbey National started receiving mail addressed to Sherlock Holmes. Not just fan mail but also requests for help. A private secretary was hired to reply to letters explaining that the detective had retired to the coast to look after his bees.
In later years, the Building Society also paid for a plaque to be mounted on the front of their head office and for a bronze statue of Holmes which can be found round the corner in Marylebone Road.
The renumbering of Baker Street pushes Holmes and Watson up into that stubby little patch once known as Upper Baker Street, a short stroll from Regent's Park. It also places them opposite Baker Street tube station which opened in 1863 and was one of the original stations of the Metropolitan Railway, the world's first underground railway.
That's a pretty big piece of real estate that vanishes from the world of Sherlock and Elementary. I think you can levy the same accusation about the Jeremy Brett series. Does that mean they live in a world without tube trains? Patrick Macnee's Watson in Sherlock Holmes in New York says he misses the Underground. Was it stolen by Braniac?
And what happened to Madame Tussauds which had been a Baker Street regular since 1835? No waxwork mysteries for the modern Holmes and Watson?
In the Cumberbatch tv show, Sherlock's Baker Street seems to have relocated to the edges of Soho, but it is filmed in North Gower Street over by Euston Station. Meanwhile, Elementary chose a location further east in Shorditch.

I guess Johnny Lee Miller could drop in on the kids of Class.
Although it should be noted that the Elementary team also warp space by giving an office at New Scotland Yard a nice view over the Thames.
There is a further twist to the Baker Street site. The Sherlock Holmes Museum moved into 239 Baker Street, re-styling it as 221B. Allegedly a squabble erupted over who should receive post addressed to Holmes. Initially, Abbey National held their own in the dispute. Heck, they were on the actual site and had been doing the job for over 60 years.

(Most reports say the Museum opened in 1990, but while I was working in that patch it was quite invisible. There was a memorabilia shop on the other side of the road, and to the casual commuter it seemed that the shop migrated across the street long before the museum kicked off.)
However, Abbey National moved out in 2002 and the site was redeveloped as a boutique hotel and apartments, clearing the path for the museum to be accepted as 221B Baker Street and pick up the post. Don't know if you will get a reply though?