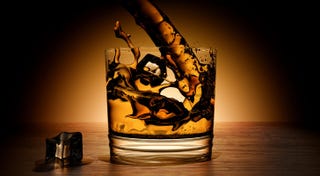 Presuming you didn't have enough of World Whisky Day in May, raise a glass again today - July 27 is National Scotch Day. It is a chance to celebrate the water of life as carefully and classically crafted for caleighs in Caledonia.
Scotch Whisky contributes around £5 billion to the UK economy each year, provides jobs for over 10,000 people and supports another 30,000 in allied trades. Around 99 million cases were exported last year. If you lined up the bottles it would stretch from Edinburgh to New York.
Whether it is malt or grain whisky, there is a process enshrined in law that dictates how the spirit is made if it is going to be Scotch Whisky. there are five categories, single malt, blended malt, single grain, blended grain and blended whisky. The spirit needs to be matured in oak casks in Scotland for a minimum of three years. Some 20 million casks are currently maturing and while 115 distillers are licensed to produce whisky and after some fallow years more are on the way.
As a premium product Scotch whisky is unparalleled, but that wasn't always the case. And you can blame a Welshman.
Distilling techniques were imported from the Mediterranean to Ireland around 1000AD, originally to make perfume. By the 12th century those methods had been adapted to make a drinkable spirit and the first mention of whiskey is recorded in 1405. Come the 19th century, Irish whiskey was top dog, while their rivals in other parts of the UK were prone to selling products that had been adulterated with cheaper ingredients or drained from the cask before the spirit had matured. (Actually, there is a firm in Shropshire, England currently producing Stolen Youth, a spirit drained from the cask before it can mature into whisky. Sacrilege or wot? Kind of pricey in the circumstances.)

Lack of quality didn't stop people drinking though. Come 1915 it was a point of concern for teetotal Prime Minister David Lloyd-George who was worried about excessive drinking among munitions workers.
His government introduced licensing laws to restrict drinking hours and he pushed forward on The Immature Spirits (Restriction) Act 1915 which for the first time enshrined the need to mature whisky in oak casks for a three-year period. Lloyd-George hoped this would push the whisky industry out of business but it allowed the trade to clean up business.
The less reputable distillery firms ceased trading and the remaining producers were confirmed as offering a hallmark tipple. Not his intent, but Lloyd-George did us all a service.