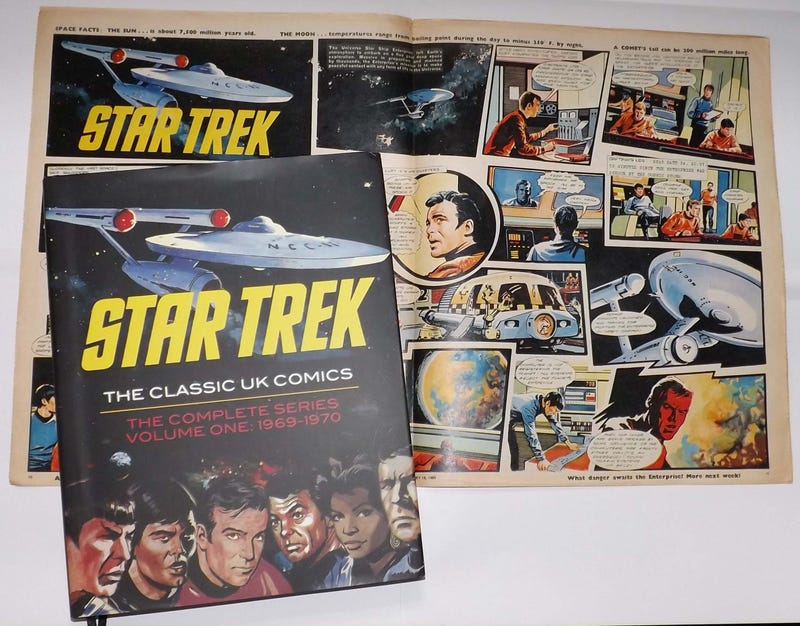 An early birthday present came through the post this morning in the form of IDW's hardcover collection of Star Trek strips produced for the UK market. It collects material published between January 1969 and December 1970 which hasn't seen print since those halcyon days.
It's over 200 pages of nostalgia for the likes of me who had our initial encounter with Trek in these pages. For the rest of you it is a wild ride into an unknown frontier from the Star Trek universe.
If I have any criticism of the book it's that it looses some of the context of how we met Trek for the first time. Some of the material is being published at a smaller page size than the original (see top, the original page is about an inch bigger). That has a certain inevitability, but there were a series of publishing changes that shaped our voyage back then*. The lack of a cover gallery not only misses out on some great Star Trek art but disguises some of the changes the parent publications went through. Despite colour restoration some of the pages aren't as vibrant as the original editions (but I might have to blame some bloke who sold old Joe 90 comics to Editor Rich Handley).
Back in 1969, the comic that ruled was TV21 which flew on an assortment of strips based on Gerry Anderson creations such as Thunderbirds, Stingray, and Fireball XL5. It had a 10½ by 13 inch page that was normal for many British comics at the time. Produced by City Magazines in association with Anderson's Century 21 Publishing, TV21 had nailed its colours firmly to Captain Scarlet's Spectrum though a merger with TV Tornado had brought The Saint, Tarzan and Department S to the mix.
TV21 had been used to foreshadow the launch of Thunderbirds and Captain Scarlet but this approach wasn't taken with Anderson's newest show. Joe 90 was noticeably absent from the comic, but after five months on television the "Most Special Agent" got to lead his own 20 page weekly title, Joe 90 Top Secret. A penny dearer than we were used to at 8d (3½p or 4 cents). It came with a cardboard pop-out model of Mac's flying car that did something twangy with an elastic band. Oh, such fun!
Three panels on the cover drawn by the otherwise legendary Frank Bellamy formed a prelude to three black and white Joe 90 pages by Dan Dare's Keith Watson. We got a half page feature on collecting space stamps, then Ninepence + Tenpence = SPORT, a black and white original strip about a pair of Eskimo footballing savants. The Champions got a three page black and white strip following the adventures of the pre-bionic super-spies. It had a rather detailed explanation of Nemisis, the Man from the Blue Mountain (soon to played by Tilda Swinton) and how the agents got their powers. Land of the Giants got a two-page colour origin sequence that tightly followed the first first episode of that show. The back page was of a Lotus-Ford racing car.
Then there was that centrespread, two pages of something called Star Trek about the Universe Star Ship Enterprise led by Captain Kurt. Allegedly it was a"Super TV Strip" but it wasn't being shown on any television near us. It wasn't being shown to the people creating the strip either, just a few reference pictures of the actors out of costume (and sans ears). But hey, I think we enjoyed it.
It's hard to imagine what the game plan was for Joe 90 Top Secret, it didn't share the unifying character of the Anderson-verse, the lead feature was upstaged by some of the supporting acts (many of the covers were given over to Trek or Land of the Giants), and some of the source features hadn't necessarily made the greatest impact on television. Besides other factors were at play which would force changes.
Welcome to the world of mergers. In the comic sense, British comic publishers had a practice of merging titles, always heralded as "great news" but usually just irritating to the reader. Case in point, Joe 90 Top Secret came to a halt with issue 34 and was merged with TV21.
We now got TV21 & Joe 90 (New Series) No 1 which liked footballers on the cover, although I'm not convinced that readers shared the same enthusiasm. I mean, we would go and buy Tiger or that new Shoot! mag if we wanted that. (Football comics were a whole genre in their own right and Lags' Eleven is due for a 21st century overhaul).
Joe, Land of the Giants and Star Trek joined Tarzan, The Saint, Forward from The Back-Streets (a football strip) and Thunderbirds with sports features in the 24 page weekly. Trek took or held the centrespread, depending on your perspective. Frank Bellamy's Thunderbirds looks really strange as a single page. (Actually, I wonder if Bellamy drew it as a two-pager only to have it cut and pasted to fit. Thunderbirds was back to two pages the following week but that run has a sense that Bellamy was either losing interest or bothered by something beyond his control. Garth was round the corner). I think the Tarzan strip is by Don Lawrence and as you might expect it looks good. Joe 90 was now a page-and-a-half in black and white.
Backtracking slightly, TV Century 21 as it was originally called, made great hay with faux-newspaper covers denouncing Troy Tempest as a traitor, mourning the death of Steve Zodiac or the start of interplanetary war with the Astrans. The new seriescame with new editors who started using paintings teasing scenes from a highlighted strip that issue, rotating Trek with other features.
During this time, another kind of merger was underway, City Magazines were hoovered up as part of Fleetway under the mega-umbrella of IPC. The boardroom shuffle might have been beyond readers, but when the reduction in page size was a sign to readers that things were changing. (* As I said earlier, the new collection publishes some material at a smaller size, but they have at least three different sets of dimensions to even up).
The title became a rather straight TV21, Joe 90 and Thunderbirds were dropped, Land of the Giants, Tarazan and The Saint also made their exit.
The gravure printing was phased out in favour of a cheaper offset with an A4 sized page. Star Trek became the lead feature, a three-page strip that started on the cover. As lively as the Trek strip was, the rest of the comic lacked direction. A handful of UK originated strips without any television connection fluttered in and out as quickly as they came, replaced by a strange assortment of Marvel reprints that included Spider-Man, Silver Surfer, Ringo Kid, Homer The Happy Ghost, and the Ghost Rider.
TV21 had little in common with the original title when it was merged with Valiant another Fleetway weekly. Star Trek was the only strip to make the transition. Although that's another story.