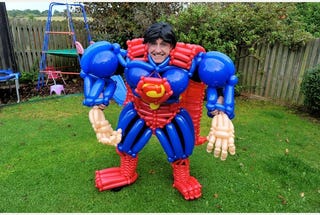 Not content with creating balloon animals, magician Paul Brown from Brizlincote Valley in Burton, Lancashire has been crafting superhero costumes for a school project.
He hopes to inspire pupils with his inflatable cosplay constructs of Superman, the Incredible Hulk and Captain America. Each costume takes around eight hours to produce and a Batman suit is in the wings.
He is also going to be working on a Hulkbuster Iron Man suit.