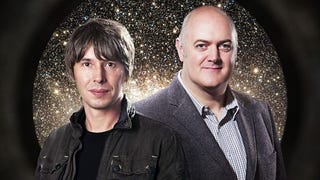 Stargazing Live is returning to UK television screens next Tuesday for another four episodes of sink-or-swim exploration of the night sky. And if cloud cover puts the mockers on actual stargazing, hosts Brian Cox and Dara O'Briain will also be linking up with astronaut Tim Peake for a chat about life onboard the International Space Station.
Peake might need to duck because Brian and Dara plan to make a garden shed fly. (Can they beat Top Gear's flying Reliant Robin?)
Reporter Liz Bonnin will be at the European Astronaut Centre in Cologne, where comedian John Bishop experiences some of Peake's training programme over three nights, starting with a live, underwater simulated space-walk! Brian and Dara will be joined in the studio by NASA scientist Carly Howett to enjoy some spectacular new views from the surface of Pluto, as well as exploring some of the biggest planets and stars in the universe.
They'll also be asking viewers to help to find new pulsars while Professor Lucie Green will be show the audience how to photograph the International Space Station.
Stargazing Live returns to BBC2 at 9pm on Tuesday 12 January with iPlayer to follow.