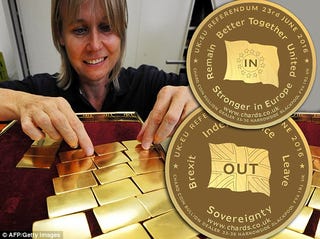 This morning, a short item on BBC news programme Breakfast presented a solution for those of us in the UK who are confuddled by the EU Referendum - which is coming up this Thursday. We are supposed to decide between the merits of being a member of the European Union and the milk and honey promise of being freebooting marketeers riding out to the world at large.
Blackpool bullion dealer Chard have minted an EU Referendum medallion which you can flip, head or tails, to get an in-or-out decision. Never mind the economics, just throw the coin in the air and see what which way it lands. Do you suppose they do a Dice Man edition? Wonder if I can get a stick of rock that does the same?
While I was looking for the EU coin, I discovered that a certain coin from the land of Braavos is also in circulation. Maybe that's the one I will need before the week is out ...