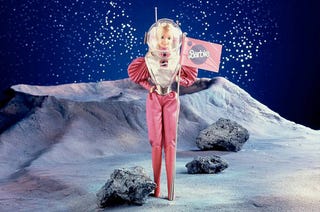 She's looking good at 57 years old. As befitting a Mars Explorer Barbara Millicent Roberts gets a national day on her "official" birthday, March 9th. Would you believe, Miss Astronaut was going into space a full year before her Mattel colleague Major Matt Mason (who stands a little short besides her).
She has carried on exploring the final frontier years after the Major hung up his helmet.
Along with her space-faring skills, young Ms Roberts is an accomplished princess, ballerina, model, fashion editor, chef, photographer, Olympic gymnast, hairdresser, stewardess, rapper, cheerleader, cow girl, diplomat, pop star, architect, paleontologist and waffle cook.
She has served in the US Army, Navy, Air Force and Marines. with spells as a lifeguard. fire-fighter and police officer. Seconded to the Canadian Mounties (just like Action Man), she is a doctor, dentist, surgeon, ophthalmologist, has been US President (although the 2000 election was marred by electronic irregularities in Florida), a Nascar racer, and can fly a commercial airliner (doubling as a flight attendant).
However, she has some problems with computers. What would her parents, George and Margret Roberts of Willows, Wisconsin say after laying out for that expensive education?
At first glance, Miss Robert's home seems quite expansive, but she allegedly has over 40 pets. Not content with being a cat hoarder, she has dogs, horses, a zebra, a panda, a lion, and an elephant.
While she is obviously a high functioning multi-tasker, it is not clear who cares for these pets while Miss Roberts is away pursuing her 167 plus careers. Expect animal cruelty charges to follow.