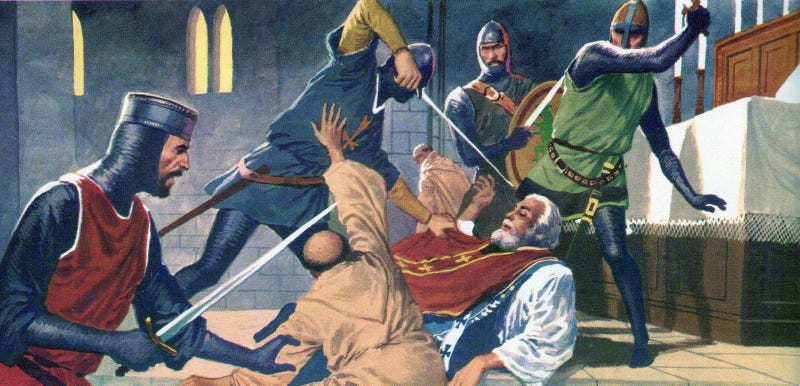 Thomas à Becket, or at least a bit of him, returned to Canterbury today - 845 years after he was murdered. The fragment of martyr's bone is revered in Hungary as a symbol of Catholic resistance against communism.
Becket became Archbishop of Canterbury in 1162 but fell out with his chum Henry II over rights and privileges enjoyed by the Church. This led to a period of exile in France and although Henry offered a compromise that allowed Becket to return to England relations remained strained.
Becket attracted more Royal ire when he excommunicated three bishops who crowned the heir apparent at York which was a breach of the privilege of coronation vested in Canterbury.
There is still debate over what Henry said when he received news of Becket's actions. I like the basic exclamation "Who will rid me of this damned priest!" It has a simple anger that could trigger unintended consequences.
Henry's comments prompted Sir Reginald fitzUrse and his fellow knights, Hugh de Moreville, William de Tracy and Richard le Breton to travel to Canterbury and confront Becket. They demanded the Archbishop present himself in Winchester to explain his actions. Becket refused, the knights left but returned and killed him, injuring others in the attack.
Henry later humbled himself with an act of penance at Becket's tomb. The four knights were sent on a papal mission to the Holy Land and there are mixed stories over whether they returned or not. (Lily Langtree was a descendant of le Breton and Fitzurse is said to have fathered the MacMahon clan).
Becket was quickly recognised as a martyr but his shrine was destroyed during the Dissolution of the Monasteries and Henry VIII ordered the destruction of his remains. However, a couple of Hungarian prelates are said to have been present in 1220 when Becket's remains were reburied. Evidently, they picked up a souvenir.

Earlier today, Hungarian dignitaries walked a mile and a half from a church to the city walls in Canterbury. After a service at the Cathedral the bone fragment was placed on display where it will remain for the rest of the week.