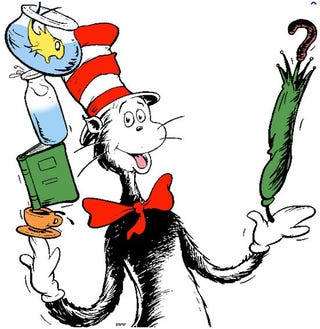 If anyone whips up some green eggs and ham for you check the use by date, because March 2nd is National Old Stuff Day. On the other hand, if you are celebrating Dr Seusss Day, otherwise known as National Read Across America Day then pick up a book and give yourself a treat.
It's old Theodore's birthday today and also National Banana Cream Pie Day, in case you want something to follow those green eggs and ham.
National Old Stuff Day is a bit of a misnomer, the idea is to try something new (like green eggs and ham. I do not like them Sam-I-Am), find a better way of doing things, make yourself more efficient, and so on. Having a declutter is part of the same ethic. No hope for me then!
Having never watched Phineas and Ferb I know nothing about Platypus Day. Hmm, maybe that's why the eggs are green?