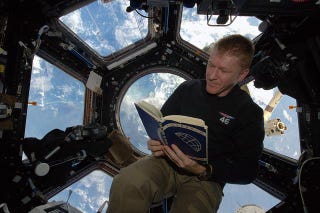 Shades of Bleep and Booster! Little nippers in the UK will get an extra sprinkling of moon dust with their bedtime story on May 30. British astronaut Tim Peake will be reading Goodnight Spaceman for the CBeebies Bedtime Story programme.
Peake follows in the footsteps of Damien Lewis, David Tennant, Nadiya Hussain, Warrick Davis, James McAvoy and Maxine Peake, though to be fair they didn't get to play in the orbital location of the International Space Station.
Goodnight Spaceman tells the story of two young astronauts hoping for adventure. It was written by Michelle Robinson and Nick East. It will be broadcast on CBeebies on May 30 at 6:50pm (BST).