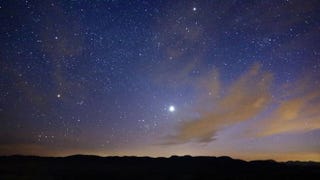 Over at The Guardian today, Amanda Petrusich presents a loving argument for the value of a dark sky. It's amazing what you see in the dark she says and I find I agree. Actually I saw the Moon this morning, while putting the recycling bins away. The sky wasn't in anyway dark but it allowed a clear view of a waning gibbous orb, a bright pinky gold that was positively radiant.
Yesterday, however, I couldn't see the big chunk of rock across the road, never mind anything in the sky. Objects beyond 20ft were lost in the blur of a soggy white-out. That's what you get in the Land of the Long Grey Cloud.
So when it comes to next year's solar eclipse, I'll be lucky to get the partial view promised for the UK. I might live on the edge of an area that enjoys dark sky status but those dark skies are frequently blocked out by clouds. The recent meteor showers were well and truly obscured. Phooey!
But when the clouds blow over, the night sky reveals a multi-textured black and blue tableau where I can pick out Mars with the naked eye and follow the constellations around the heavens. It doesn't match the view I got backpacking in Nevada, still too much streetlight for that, but pretty good nonetheless.
Here's to clear dark skies!