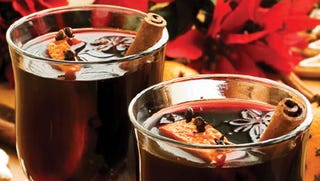 March 3 is National I Want You To Be Happy Day which tasks all and sundry with simple chore of doing something to put a smile on someone's face. Tell them a joke, buy them a coffee, do the laundry, give them a hug.

Marvelous serendipity means it is also National Mulled Wine Day and a mug of warm spiced wine seems a cheery idea for a chill day like today. It will also compliment that tray of lunch meats or Sunday roast leftovers assembled for National Cold Cuts Day and loosen your tongue for a burst of the Star Spangled Banner on National Anthem Day.
It is also If Pets Had Thumbs Day which would be handy to get them to turn the pages of that book you gifted for World Book Day, a Festival of the Imagination and celebration of the written word.
Chinese and Japanese tradition influences Peach Blossom Day, with a festival in Hunan. So go buy a girl some flowers.
Finally, it is the start of National Endometriosis Week, drawing attention to painful condition that blights the lives of many women. Cells similar to those found in the uterus are found in other parts of the body. They build up and break down in the same way but do not have any way to escape.