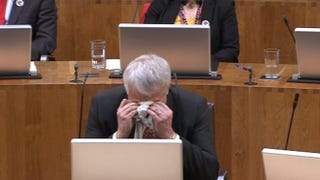 Is this the shape of "the new politics"? They are having fun in the Cardiff Bubble, which is stuck in a sonic screwdriver resistant deadlock. Barely a week after an election for the Welsh Assembly government has ground to a halt after opposing parties ganged up to block Labour's Carwyn Jones from being reconfirmed as First Minister. He seems a tad upset.
This afternoon's meeting of the Senedd was supposed to be a formality, elect the Presiding Officer, the Deputy, and the First Minister. Except Plaid Cymru's Leanne Wood was also nominated as a potential FM and the vote saw a weird alliance of Plaid, Welsh Conservatives and UKIP block Carwyn's appointment in a 29-29 draw. Labour are complaining that their opposing politicians are, well, playing politics. Duh!
Although Carwyn's Labour are the biggest party, they fall short of a majority. There is a bit of head scratching over whether Plaid's Leanne Wood stuck a deal with the Conservatives and UKIP - something she vowed not to do before the election. There's lots of chatter about consensus politics but coalitions have developed a bad rep in recent years. Perhaps we need to go back to the polls?
We also had a bit of chicanery earlier in the week with Brexiteers UKIP as Neil "Cash for Questions" Hamilton did a Ken Livingstone and bounced out Nathan Gill as the UKIP leader in the Assembly. Beware the Ides of May seems to be the order of the day.