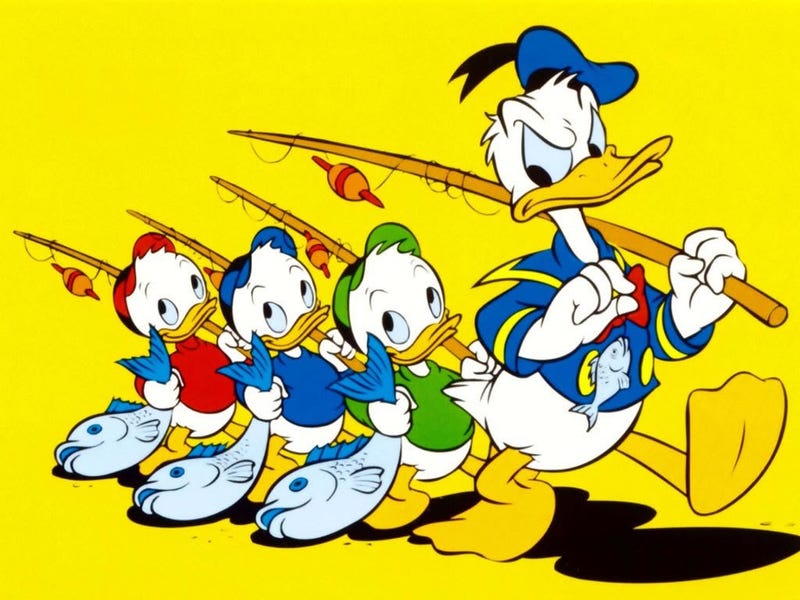 June 9 is Donald Duck Day celebrating everything about Donald Fauntleroy Duck. Known for his bad temper, Donald made his first celluloid appearance in The Wise Little Hen on this day in 1934 and has gone on to appear in more features than any of his Disney fellows.
(Apparently Mickey Mouse Annual 1931, published by Dean & Son, makes reference to a Donald Duck but I don't know if there are any accompanying visuals. It's out there if you have £500 or so spare to check.)
There is a saga surrounding Donald being banned in Finland due to a lack of trousers, loose morals, fathering Huey, Dewey and Louie without marrying Daisy, etc. It might be a myth, but Donald did force the trousers onto Howard the Duck. Disney sued Marvel over supposed similarities between the two characters, prompted by a number of newspapers dropping Donald in favour of Howard's daily strip.
Also, like Captain America, Donald was transformed into a Nazi, supporting Hitler's war machine during World War II. Don't worry, it was just a nightmare and Donald wakes with renewed appreciation of the stars and stripes.
Donald featured in a series of propaganda movies during WWII. Duck Tales notwithstanding, he has probably served in every branch of the US military.
He's also a bit of a comic star, with the Carl Barks and Al Teliafarro series in the USA and Federico Peddrocci in Italy.