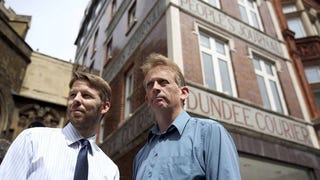 The last two journalists in London's famed Street of Shame have been made redundant, leaving their typewriters behind in what was once the home of Sweeney Todd. It has been noted as the final cut of ties to the UK newspaper industry that charcterised the Fleet Street area.
Reporters Gavin Sherriff and Darryl Smith were the last men standing in the editorial team at the Fleet Street office of Scotland's Sunday Post.
(Splitting hairs for a second, I think there are still some agency hacks hiding down the road in a unit of the Black Lubyanka, not directly employed by any paper but still servicing the Daily Beast.) .