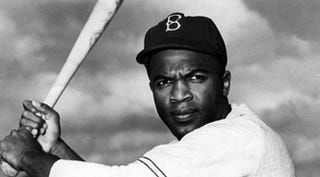 A weekend shuffle brings an early Emancipation Day in Washington DC, marking the anniversary of the signing of the Compensated Emancipation Act, which President Abraham Lincoln signed on April 16, 1862. The day is usually celebrated with a parade and firework display.
The act freed about 3,100 slaves in the district, an early step towards a more universal emancipation. It would be another nine months before Lincoln signed legislation freeing slaves in ten Confederate States, though there was Civil War to get out of the way before it could be enacted.
(There are several other associated days in other States which I will try to come back on as they arise. Also I have a more personal take on Jamaica's Emancipation Day if I can get the research sorted.)
Coincidentally, April 15 is Jackie Robinson Day, an annual event in Major League Baseball feting the day that Robinson broke through a system of racial segregation that relegated black players to the Negro leagues.
Robinson (pictured up top) became the first African American to play Major League baseball in the modern age, making his debut with the Brooklyn Dodgers on April 15, 1947. Nearly 27,000 spectators filled the Stadium.
By 1949, he was being hailed as the League's most valuable player but still had to contended with attacks that ranged from petty name calling to physical assaults from other players. He was an All-Star player and took part in six World Series. He died in 1972 aged 53.
In 1997 the MLB "retired" his shirt number, 42, across all major teams, the exception being April 15 when all players don the 42 shirt.