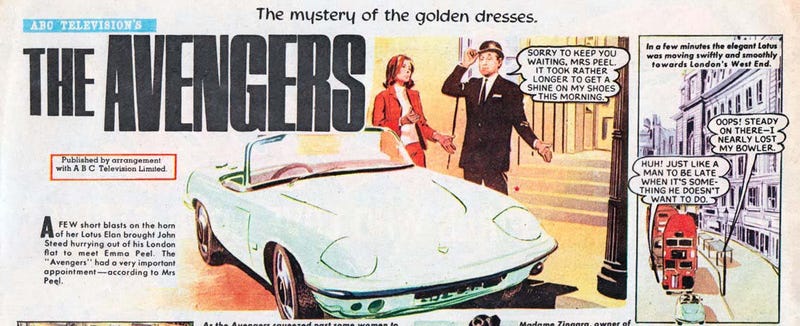 Want a tip for a Christmas present? This December, Whovian audio wizards Big Finish are dipping a toe in to comic publishing with a collection of strips from the vaults of DC Thomson. They have assembled a run of Avengers comics that appeared five decades ago in young girls' weekly Diana. A double page dose of Steed and Mrs Peel ran in the glossy pages of the British weekly for 25 issues in 1967.
The Diana spreads were painted by Emilio Fréjo Abregon from Valencia, alternating with Juan Gonzalez Alacrejo. (I believe they got another outing in a later DC Thomson weekly, TV Tops. Can anyone confirm or deny that?) Abregon was already known in the UK for his work on the Kit Carson comic.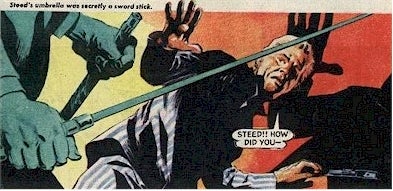 Visually, this is probably the Rolls-Royce of Avengers strips with the Thorpe and Porter and Polystyle strips looking a little shabby beside them.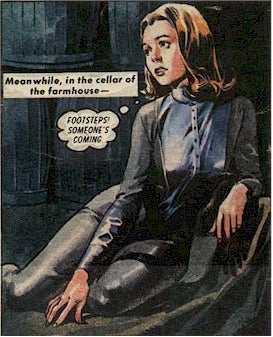 Being Big Finish, they have also adapted the stories for their audio range.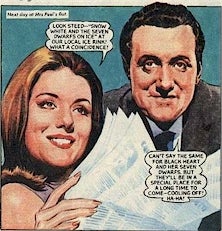 Diana, subtitled "The Paper For Girls Who Love Good Stories" ran from 1963 to 1976 (when it was merged with Jackie which apparently wasn't named after Jacqueline Wilson but she has her own comic now anyway, so what goes around comes around). It was DC Thomson's first attempt to compete against Odham's Girl and they adopted rotogravure printing over their usual letterpress approach. It sat in the middle of a range of titles intended to cater for girls from school entry to late teens. (Actually DC Thomson probably imagined readers moving on to Red Letter and People's Friend, but that's another story.)
I don't think it has been included in the Big Finish collection, but DC Thomson's arch rival, Fleetway had already ventured into The Avengers universe. One of their girls' range, June and Schoolfriend, carried the awkwardly titled The Growing-up of Emma Peel for eleven weeks in 1966. The strip followed the adventures of a 14-year-old Emma Knight as she traveled the world with her father.
The Avengers - Steed & Mrs Peel: The Graphic Novel is available for pre-order on Amazon, while The Avengers: Steed & Mrs Peel: The Comic Strip Adaptations Volume 1 starring Julian Wadham and Olivia Poulet is already available for purchase.