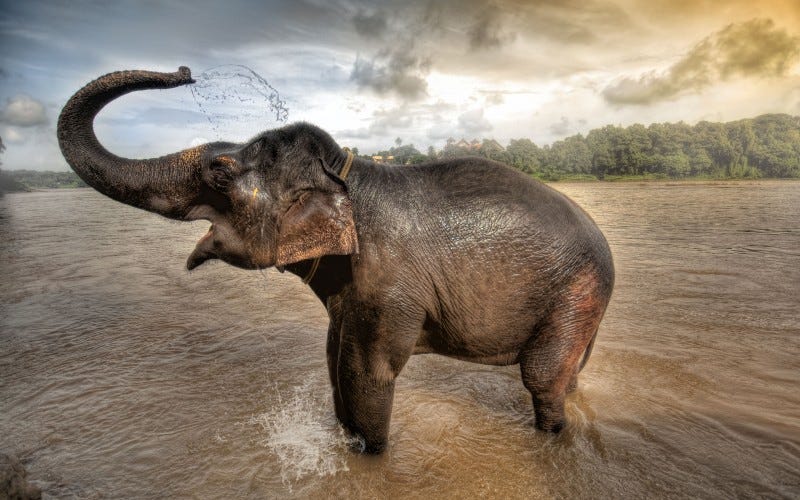 It is Chang Thai Day or National Thai Elephant Day (March 13) in Thailand. Stemming from the day a white elephant was added to the Thai flag it recognises the importance of elephants to Thai culture, promoting awareness of the need to protect these pachyderms and their environment.
Elephants are the national animal of Thailand but still face threats to habitat. They are historically important to Thai people in terms of transportation, labour and warfare.
Events include a buffet for elephants, a blessing ceremony and an elephant show. (I was hoping to add a para or two about an old friend who was dubbed "Mother of Elephants" but that will have to wait for another time).
Stateside, dogs are the heroes on National K9 Veterans Day, the official birthday of the US Army K9 Corps. I would suggest a doggie treat but if they are anything like the British lot you might not get your fingers back.
Meanwhile, it's also Open An Umbrella Indoors Day, an experiment in casting off superstition. Try, well, opening an umbrella indoors and recording any bad luck that follows. The day's founder Thomas Knibbs predicts a null result, but all sightings of Egyptian umbrella sprites that knock your house down are greatly appreciated.
Coincidentally, other forms of weather protection are available because it is National Earmuff Day marking Chester Greenwood of Maine who patented furry ear covers on this day in 1887.
Lest I forget, take time to do something nice for somebody on Good Samaritan Involvement Day. In a frightening stack up Ken Carson gets some love on Ken Day, which is also Uncle Sam Day, National Coconut Torte Day, and the start of Deaf History Month and National Wildlife Week.