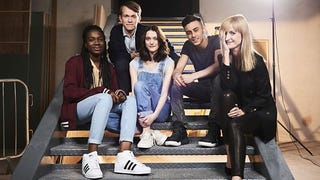 The Beeb have unveiled the main cast members of Doctor Who spin-off Class with an euphoric burst of enthusiasm from writer Patrick Ness and Exec Producer Steven Moffat. "We searched far and wide for this amazing cast, fantastic actors who understand what we're aiming for with this show,"says Ness.
If the cast is unfamiliar, other aspects of the show might ring a bell.
"Time has looked at your faces now. And Time never forgets ..." says a mysterious personage in a BBC press release that has echoes of An Unearthly Child. What if your planet was massacred and you were the sole survivor? What if a legendary figure from out of time and space found you a place to hide? But what if the thing that wants to kill you has tracked you down? And worst of all, what if you haven't studied for your A-levels?
Greg Austin, Fadey Elsayed, Sophie Hopkins, and Vivian Oparah (pictured above) are playing the Sixth-Formers with hidden secrets and desires, facing their own worst fears of friends, family, school work sex and sorrow in Shorditch. They will be joined by Katherine Kelly, recently seen in Happy Valley, playing a teacher who is "a powerful new presence at Coal Hill School" (Must be The Rani).
Shades of Torchwood and Matt Smith's smiley crack, all the time travel of previous Doctor Who adventures has weakened the fabric of time and space. Something nasty is breaking through. Fear and war are coming!
Executive Producer Steven Moffat says he always wondered if there could be a British Buffy and reckons Class could be it. "There's nothing more exciting than meeting stars that nobody's heard of yet. We had the read through of the first few episodes last week, and there was a whole row of them. Coal Hill school has been a part of Doctor Who since the very first shoot in 1963, but this new show is anything but history, Class is dark and sexy and right now."