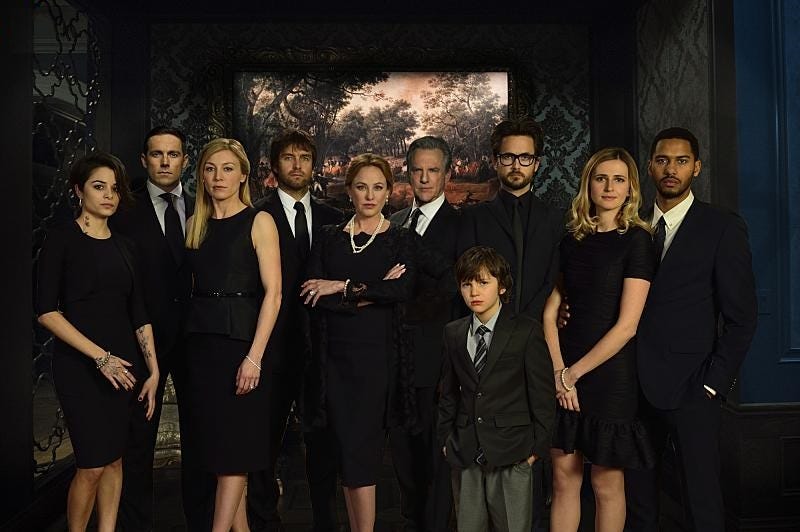 This could be a spoiler, because I'm not sure if what I've seen is the way it looks. If it isn't. well maybe someone can explain ...
I just watched the slow burn opening episode of American Gothic which has nowt to do with Trinity, South Carolina. It has opened to indifferent reviews and soft applause but there might be something hiding in plain sight. The focus of this new 13-part serial from Amblin is a prominent but dysfunctional Boston family, The Hawthornes. On the face of it all high achievers but with odd soapy little quirks like drug addiction, returning prodigal exiles, and junior medical examiners with a penchant for animal experimentation.
Something happened in the opening minutes that had me slightly confused, but I will come back on that shortly. During that opening, a concrete collapse in a city-bound tunnel reveals a belt used by a notorious serial murderer, the Silver Bells Killer - who left silver bells at the crime scene but no other evidence. After 12 years, police have something that might help identify the killer. The concrete was supplied by the Hawthorne family firm, so there might be a burden of responsibility.
The Hawthorne family have gathered to support big sister Alison (Juliet Rylance) as she stands for Mayor. But things turn sour when patriarch Mitch Hawthorne is laid low by a near fatal heart attack, which brings wayward son, Garrett (Antony Starr) back from exile. He whispers something to his bed-stricken dad that triggers a further attack.
Mooching around the house daughter Tessa and son Cam (Justin Chatwin) find a box of silver bells and clipping about the historic murders. Could dad be the SBK? Could it be Garrett, who has been missing in the intervening years?
There are several other family members with secrets, but the couple who worry me are naive Tessa (Megan Ketch) and her detective husband Brady Ross (Elliot Knight). They are the first characters we meet, driving into Boston, laughing about ovulation alarms and whether they can get away with procreational activities in the family home. All a bit of a giggle, except ...
THIS MIGHT BE THE SPOILER ....
As we follow Tessa and Brady (the couple on the far right up top), in their green car along the road, into the tunnel, see pins break in the concrete ceiling, a bloody great load of concrete drops on top of them smashing car and passengers to pulp as other vehicles screech to a halt.
Cut briefly to their lone car exiting the tunnel and Tessa saying "Did you hear something?" Except there is still an identical car back in the tunnel buried in rubble which has exposed a murder weapon.
No mention is made of the passengers of the car, Tessa and Brady continue to interact with everyone as normal. So am I being dim? Is it just bad editing? Or are Tessa and Brady already dead, doomed to be restless spirits until they bring the Silver Bell Killer to justice?