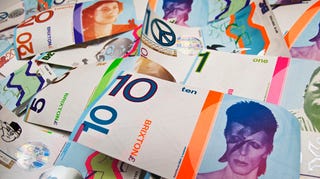 Collectors are paying nearly five times face value for a ten pound note with a picture of late pop legend David Bowie on the front.
Brixton businesses are currently experimenting with a local currency which they hope will stimulate local trade and production. It's not a new idea, similar schemes have been running in Bristol, Exeter and Liverpool, but the Brixton crowd have jazzed it up with an actual cash machine and snazzy notes with images of local heroes.
Their Ten Pound note with a Ziggy Stardust image of local boy David Bowie (never mind that he emigrated to Beckenham) is causing a bit of a stir. Notes are now changing hands on eBay for £45. Face value in a participating Brixton shop remains ten quid. Nice work if you can get it and it is more quantitative pleasing than quantitative easing.
Bowie himself set new fiscal ground with a "celebrity bond" leveraging future royalties. Anyone know if they were a good investment?