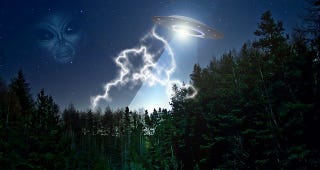 March 20 is International Happiness Day, a UN-led creation that comes with a pseudo-legalese declaration guaranteed to drain the joy from any cheeks. But it is the first day of spring, bringing a cornucopia of days to be happy about. There are at least a dozen days springing out of the change of seasons, embracing a variety of belief systems from Buddhism to Crowleyism.
It's a day to pop the question to that special someone on National Proposal Day (the first of two, at least), mind your language for International Francaphonie Day, take a bath in ravioli for National Ravioli Day, or go veggie for The Great American Meatout. Sprinkle some Trill on your lawn for World Sparrow Day.
In keeping with International Astrology Day, a quick horoscope reading shows you should beware that short grey person on Alien Abduction Day.