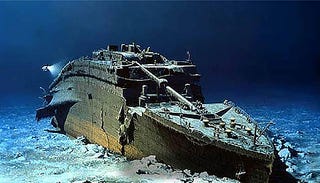 Guess what! April 15 piles on the days this year. It is Take A Wild Guess Day, supposedly poking those intuitive skills dulled by the pressure of Tax Day. Maybe That Sucks Day sums up the mood, but it is also World Art Day and Universal Day of Culture.
If you can summon up a bite-sized action that helps a worthy cause, Microvolunteering Day could be just what you need. The US also has National Donate Life Blue and Green Day encouraging citizens to register as organ donors. In shades of Emancipation Day and Jackie Robinson Day the LGBT community is campaigning for equality with a National Day of Silence.
In Liverpool, it is Hillsborough Memorial Day though it will see the final service held at the Anfield stadium. A minute's silence will be held across Liverpool in memory of 96 football fans killed in a crush during a FA Cup semi-final at Sheffield's Hillsbrough stadium.
Staying with a Liverpool connection, it is National Titanic Remembrance Day marking the famous maritime disaster. Back at the old firm, I was introduced to Beryl Sleigh, who enjoyed a certain celebrity singing opera despite having been blown up in a munitions explosion. Her uncle, Charles Lightoller was Second Officer on the doomed ship. I'll try to expand on that another time.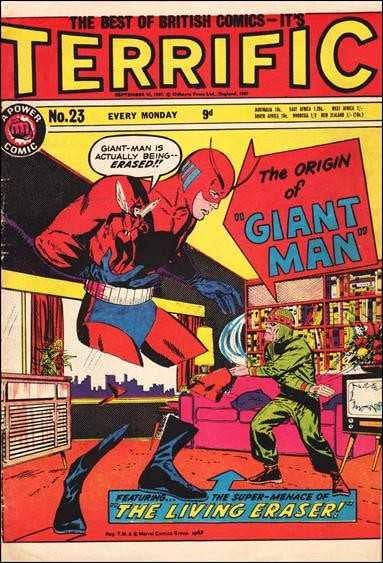 National Rubber Eraser Day almost sounds like a super villain plan to wipe out the world.
It put me in mind of a Giant Man yarn, originally from Tales To Astonish though my first encounter was reading it in the pages of Terrific. (Look that's a price in real money on the cover of the Odhams weekly, 4p in today's cash).
Hank and Janet face off against The Living Eraser, a marauder from Dimension X, not to be confused with any other Dimension X that lurks in the corners of the Marvel Universe.
Batman also tackled the Human Eraser around the same time. He seemed to have the same wipe-out ability as the Marvel nasty.
North Korea celebrates the Day of the Sun marking the birthday of Kim Il-sung.
Back in the States it is National Glazed Spiral Ham Day marking the day Detroit's Harry J Hoenselaar received a patent for his slicing machine and the glaze he used on his piggy treat.